Nantwich Show 2018
Pimms, Beach Balls & Holiday worthy weather – another successful year at the Nantwich Show!
Butcher & Barlow enjoyed another great day at the Nantwich Show on Wednesday 25th July. The show is the biggest one day agricultural event in the country, with over 200 trade stands selling a wide range of items from livestock to farming equipment. The show is also famous for its International Cheese Awards, with over 5,000 entries from over 30 different countries. This year also had celebrity chef James Martin, who was on hand to give some hints and tips for those aspiring chefs (notably a keen Dominic Carr, trainee at our Gadbrook office), amongst others in attendance.
The sun was beaming from start to finish and many clients, both old and new, enjoyed biscuits and light refreshments (including the very popular Pimms) in the morning with afternoon tea available later on courtesy of Country Kitchen. There was also a craft corner for children to enjoy. Our solicitors and trainees were always on hand to help out with refreshments and chat with guests – with many of the Solicitors and Partners taking the opportunity to not only reconnect with existing clients but also network and introduce themselves to potential new ones.
Unfortunately we did not place this year in the Trade Stand Competition but this did not dampen our spirits as our stand was busy all day, with barely an opportunity to have a 5 minute sit down! Perhaps next year will be our year for the win!
Our famous competition was back and attracted over 300 guests. This year Mike Bracegirdle's Defender was filled with inflated beach balls with guests keen to guess the correct number. Some serious analysing and consideration was put into the guesses and a surprising number of people actually managed to guess the correct number of 48. Clearly next year we will have to make the competition more of a challenge! All correct answers will be placed into a raffle with the winner to be randomly selected and announced shortly. The lucky winner will receive a Marks and Spencers bag of treats and a sweet bomb along with two other random entries who will receive some Marks and Spencers vouchers. At the end of the day the beach balls were given away and people were queuing to collect one meaning they were all gone within a couple of minutes. We can only apologise to the disappointed clients who unfortunately didn't manage to get a beach ball; better luck next year!
All in all the day was a great success, and an enjoyable time was had by all.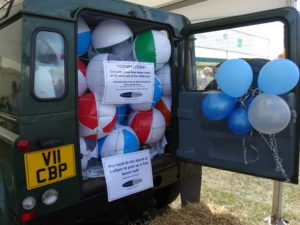 To find out more about our Agricultural services, visit /our-services/agricultural-law.aspx
or contact the team on 01606 334309 or via email at agriculture@butcher-barlow.co.uk