COVID-19 Risk Assessment and Procedures
Monday 6th July 2020
As a result of the relaxation of some of the lockdown measures we have updated our risk assessment and procedures.  We continue to review the necessary requirements and monitor the use of PPE within the offices to ensure the safety of all staff and clients.  We have set out below the requirements and procedures that will need to be maintained as we return to work.
We continue to recognise the requirement to enable staff to work from home, where possible, but to reintroduce working from the office where necessary.
All staff and visitors to our offices must maintain social distancing (i.e. ideally 2m but more than 1m) in the workplace wherever possible.
Where the social distancing guidelines cannot be followed in full in relation to a particular activity it will be necessary for mitigating actions to be taken including increasing the frequency of hand washing and surface cleaning, keeping the activity time involved as short as possible and reducing the number of people each person has contact with. As part of our risk assessment process we believe that the offices are structured in such a way as to enable the social distancing guidelines to be followed in full.
We have provided hand washing facilities and anti-bacterial hand sanitiser as well as antibacterial wipes for desks, telephones and other surfaces/equipment. Reception areas, main entrance door handles and seating areas should be wiped in between any client visiting the office.
We have screens for the reception areas and have marked out the floors in offices to maintain the required social distancing areas where necessary.
We will maintain occupancy levels within each office to enable social distancing to be observed and it will be the responsibility of each member of staff to clean their workstations at the beginning and end of each day and, in exceptional circumstances, where workstations are shared.
We will continue to use remote working but we are meeting with clients and ensuring that areas are wiped down after each meeting and that social distancing is observed throughout with clients being required to wear a face mask when visiting the offices. We have face masks available for all members of staff if you wish to wear one.
You should avoid sharing pens, equipment and other objects and hand sanitiser and wipes will be available in meeting rooms. Windows will be opened in meeting rooms and through the offices generally, where possible.
To avoid any potential risk of infection each individual should be responsible for their own drinks, food and waste. The kettle and other equipment should be wiped down in between each use and social distancing should be adhered to so that communal areas, including kitchens and bathrooms are used in accordance with these guidelines.  We will use small cones outside kitchens and bathrooms to indicate when they are occupied and these can be moved by foot rather than by hand.
Any desks that face each other with a distance of less than 2m between individuals will be reconfigured to meet the social distancing requirements (i.e. separated or people working back to back).
We will maintain an appointment diary system so that only one interview room is used and there is not less than 15 minutes between each appointment to enable work surfaces and any equipment to be wiped down between visits. We need to ensure that any visitors are only in the building for as long as absolutely necessary and to avoid clients attending early for appointments.
Deliveries will need to be left in reception with unnecessary contact kept to a minimum.
We will continue to keep the above policies under review and welcome your suggestions in relation to any practical changes or improvements that can be made.  Any queries should be addressed to Phyllis Templeman in the first instance or with the Partner in charge of your office.
If you are concerned that guidance is not being followed by any staff members or that you may be especially vulnerable to Covid-19 please raise with your office partner immediately Remember:
You must not come in to the workplace if you have any symptoms of Covid-19 or if anyone in your household has symptoms.
We would not encourage the use of public transport to come in to work and, if you are unable to attend the office without the use of public transport please discuss this with Phyllis Templeman in the first instance.
Further guidance and tips on staying safe can be found in the guidance "Working safely during Covid-19 in offices and contact centres" which can be accessed by following this link  https://www.gov.uk/guidance/working-safely-during-coronavirus-covid-19/offices-and-contact-centres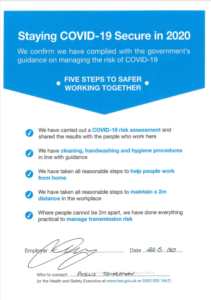 COVID-19 Risk Assessment Certificate