Congratulations to Tom Sedley on his qualification as a Solicitor
Congratulations from the Butcher & Barlow team to our newly qualified Solicitor Tom Sedley. Tom joined Butcher & Barlow in 2017 as a paralegal, before commencing his training contract in September 2018.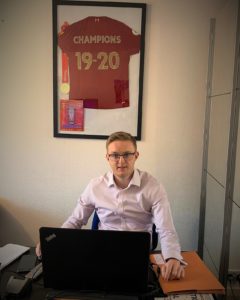 Tom will be working alongside Managing Partner Anthony Higham in the Dispute Resolution team at the Firm's head office in Bury.
To get to know a little more about Tom, we each settled down in front of our laptops for a virtual chat:
Hi Tom and congratulations on your qualification as a Solicitor.
Thank you! It's been a strange few months leading up to this point! But I am now back in the office and raring to start interacting with people again!
You've qualified in to the Dispute Resolution team. What types of matters will you be working on?
I cover the whole range of disputes from complex clinical negligence claims to contractual disputes to personal disputes. I may specialise in one specific area eventually, but for now, the breath and depth of experience I am getting is exceptional and I can draw off one area to use in another.
This exposure to different legal disputes is one of the biggest attractions in working at Butcher & Barlow –   I could be involved in a multi-million pound clinical negligence claim involving a very complex brain injury during childbirth and the next day I could be in a field taking instructions from a client who has a dispute with his neighbour regarding an overgrown tree or hedge. It keeps it interesting.
Pandemic aside, has your typical working day changed since you qualified?
Not at all! I was afforded responsibility from early on in this team meaning that it has been more of a slide than a jump between pre and post qualification.
And it may be a cliché, but there is no such thing as a 'typical' day as no two days are ever the same.
However, they usually start by checking my emails for anything that has come in overnight that requires my immediate attention. I'll make a plan of the cases that I need to deal with that day, although in the fast paced world of litigation, that plan often goes out of the window as an urgent email or order from the court is received which then requires dealing with straight away.
My working day can involve anything and everything from answering emails and providing advice, to conferences with counsel and experts regarding a complex clinical negligence claim, to drafting a witness statement in a commercial dispute or attending Court. I have even needed to break out the Wellies for several site visits!
Any tales from your career so far that you could share with us?
Although I have only been at Butcher & Barlow for three years I could probably tell a careers worth of stories regarding some of the disputes that I have been instructed on/approached to deal with, some which are not appropriate to talk about here!
Dispute resolution is an emotive area of law.
Yes, I think that because of the contentious nature of the work, you often deal with people who can be very emotional and this often leads to challenging conversations sometimes, especially were money is involved.
Did you always know you wanted to be a contentious specialist?
I have always enjoyed debating (some would say arguing) so I think a career in the legal profession was always one that appealed to me, allowing me to argue on other people's behalf for a job. As regards dispute resolution, I just found it suited me, probably because of my enjoyment of a good debate!
Let see whether you can think on your feet then!  Here are some quick fire questions for you.
Football or Rugby or Neither?
 As everybody already knows I am a massive football fan and supporter of Liverpool FC (the Champions)! I am season ticket holder so regularly attended matches at Anfield (until the coronavirus meant football went behind closed doors).
If you could tell your 15 year old self something, what would it be?
Not to take yourself so seriously or worry too much about what other people might think of you. I would also tell myself not to worry about things that at the time seem important but really aren't that important. I would also stress that it's okay to be unsure about things like what you want to do in the future etc., you don't have to know everything at 15.
If you could be someone else for the day, who would it be?
It would have to be Jordan Henderson so I could finally lift that Premier League trophy after waiting for so long! Plus, who wouldn't love a big hug from Jurgen Klopp!
Who do you admire in the business world?
Michael Jordan is somebody that I really admire. Not only is he one of the greatest basketball players of all time, he also managed to create his own billion dollar brand sports brand, Jordan, as well as part owning his own team and having a number of other commercial deals.
Tea or coffee and how do you take it?
Strong Coffee with milk and one sugar in the morning to get me going for the day.
You're a new addition to the crayon box. What colour would you be and why?
Probably red as it is a primary colour that can be mixed to create lots of others. I'd be useful and needed!
If you could travel anywhere, where would you go and why?
Considering I had a road trip along the west cost of USA cancelled due to the Coronavirus, I would probably say there! I shall be certainly looking to rearrange this
once everything has got back to normal.  Travelling is a big passion of mine, I love exploring new places, seeing new sights and experiencing new cultures.  
How would your friends describe you?
Someone who is always up for a laugh but also caring, kind and always there for them (well I'd like to think they would anyway!)
 Thanks for taking time out to chat Tom. All the best for the next stage of your career.
Tom can be contacted on 0161 764 4062 or email tsedley@butcher-barlow.co.uk